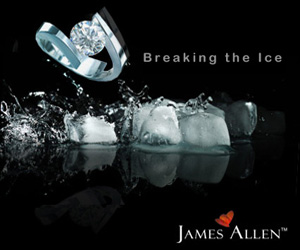 Question: I'm thinking of purchasing a diamond ring online, but I'm a little worried. Is it really secure to purchase diamonds online? Is there something like diamond shipping insurance?
Answer: Yes, shopping for a diamond ring is indeed safe. The key to purchasing jewellery online is to take advantage of diamond  shipping insurance when placing an order. This will ensure not only ensure that you will receive your ring but it will also protect you from receiving a damaged item. Should your product be damaged or faulty, you are able to send it back for a replacement.
I definitely understand why you would like to buy your ring online. Running from jewellery to jewellery shop can be very daunting and disappointing. You often know what you are looking for but it seems to be impossible to find it in a retail outlet. Comparing different rings and prices is so much easier online. You can request pages of diamonds that all match what you are looking for and you measure up to the various options easily and effectively.
And best of all, purchasing diamonds from major companies such as James Allen and Blue Nile is indeed completely secure. You simply have to make sure you take advantage of shipping insurance.
Generally speaking, you will receive your goods without any complications. However, just to be on the safe side, it is vital to take up diamond shipping insurance which is easily done. Trusted online retailers often automatically include shipping insurance when you purchase a product from them. Mondera, for instance, use shipping insurance with every single item they post out, or James Allen automatically fully insures all domestic shipments and international shipments up to $1,000. International orders above $1,000 are priced at $50 for insurance plus one percent of the total price.
Overall, purchasing diamonds online is completely safe when buying from reputable vendors that offer diamond shipping insurance. Should an online website not include shipping insurance with their products, please stay away because taking the risk of receiving a product damaged or not at all is definitely not worth the risk. Have a look at the James Allen and Blue Nile website. These vendors have been selling their goods for a long time and they have proofed to be reliable, and furthermore, their jewellery selection is very expansive and absolutely astonishing.