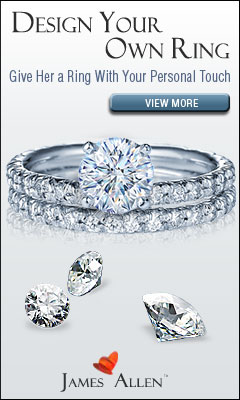 Question: I would like to get my girlfriend a diamond pendent for Valentine's Day.  I know she prefers white gold but I'm stuck on ideas for the pendent itself. Also, I don't want to spend more than $2,000. How should I go about it?
Answer: What a wonderful idea, I'm sure your girlfriend will love a diamond pendent for Valentine's Day.
Now rather than running from shop to shop, trying to get an idea of what you are actually looking for, it is much easier to shop online. The James Allen website allows choosing the pendent and diamond separately, so that way you can decide exactly what you want and how much money you want to spend. This is much easier than running around trying to find a gift that matches what you are looking for.
Firstly, have a look here and check out all these pendants in white gold. There are plenty to pick from so I'm sure once you've had a look at them, it will be easy for you to decide what kind of pendant your girlfriend what like.
The second and final step is to decide what kind of diamond you would like. This diamond search tool allows you to select a few categories and it then finds a range of stones that match your criteria. For instance, this pendant, which leaves you $1,725, the majority of your spending money for the diamond itself. You can then select $1,725 in the diamond search tool and it will give you lots of different choices to pick from.
I hope this helps you in your search for the perfect Valentine's Day gift. I'm sure that no matter what you chose your girlfriend will absolutely love it. After all, all women love diamonds and when you tell her you actually chose the diamond and pendent yourself, she will probably love it even more.